The video commemorating the 50th anniversary of Prefabricados Delta is already available on the YouTube channel of FCC Construccion
30/05/2018
The video commemorating the 50th anniversary of Prefabricados Delta is already available on the YouTube channel of FCC Construccion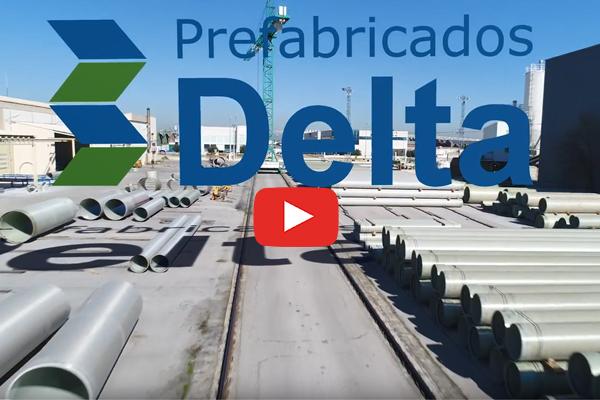 The video commemorating the 50th anniversary of the Prefabricados Delta company is already available on the YouTube channel of FCC Construccion. The video was premiered at the XIV National Congress of Irrigation Communities of Spain. Prefabricados Delta, a leading company in the Spanish market in prefabricated products with high added value and technical qualification.
Prefabricated Delta celebrates 50 years of activity having executed more than 5,000,000 railway sleepers, more than 11,000 meters for bridge beams, more than 160,000 units of voussoirs for tunnels and bridges, more than 2,200 km of pipeline for water pipes. In water supply works for different cities and towns, the 70 different sanitation works stand out, 120 irrigation communities that represent more than 900,000 ha of irrigated area, making Delta Prefabricated in leaders in the pipeline supply market in diameters between 500 and 3,000 mm. Prefabricated Delta has supplied more than 1,300 km of main pipelines to the irrigation communities.
At present, it operates four factories of prefabricated elements, two of them located in Humanes (Madrid) and the other two in Puente Genil (Córdoba). The four factories are equipped with the most modern technology and equipment that allow the development of a leading manufacturing capacity in the market. Each factory has its own laboratory where the products are subjected to various tests until they are fully approved by the quality technical team in charge of their control, thus guaranteeing totally satisfactory results.
It presents a wide range of prefabricated products (reinforced concrete pipes with sheet metal sleeves, post-tensioned concrete pipes with sheet metal sleeves, GRP pipes, voussoirs for tunnels, prestressed concrete sleepers for railway, post-tensioned beams for viaducts, anti-noise panels, GRC, prefabricated concrete panels for facades, three-dimensional cells for prisons, etc.) provides a solution to any technical problem that may arise.
You can watch the video on our YouTube channel, by clicking here.