Prefabricados Delta has been awarded the supply of the main pipe of the regular area of las vegas del bajo Valdavia (Palencia)
30/11/2017
Prefabricados Delta has been awarded the supply of the main pipe of the regular area of las vegas del bajo Valdavia (Palencia)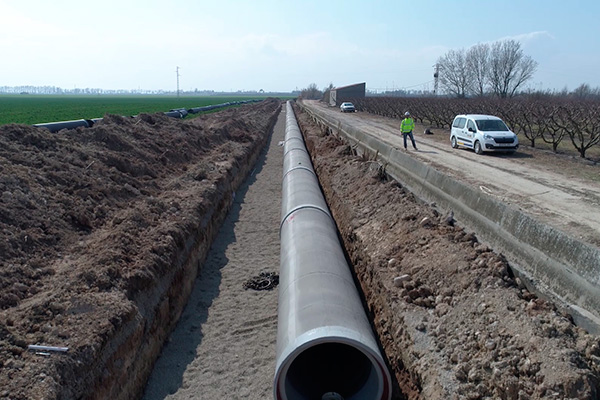 Prefabricated Delta has been awarded the supply of 22,400 meters of pre-stressed concrete pipe with sheet metal and elastic joints of DN1200, DN1100 and DN1000 diameters with pressures of 2.5 to 9.5 atm.
The irrigable zone of Las Vegas of Bajo Valdavia in Palencia has an area of 2700 ha and will benefit more than a hundred farmers in the municipalities of Villaeles de Valdavia, Villasila de Valdavia, Villanuño de Valdavia, Bárcena de Campos, Castrillo de Villavega , Abia de las Torres and Osorno la Mayor.
The budget for this work is 11.2 million euros that will be invested by the Junta de Castilla y León and will have the purpose of building a weir on the Valdavia River, to serve the water intake for irrigation; the creation of the 23.6-kilometer telescopic main water pipe that extends from the weir to the end of the irrigable zone, and the commissioning of two regulation rafts to store water for demand periods. The construction company TRAGSA has commissioned the construction of the work.
The work has been designed as a gravity irrigation and will not entail any energy cost. To achieve this, the potential energy generated by the height difference of 51 meters between the point of water intake, in the weir on the Valdavia River, at the height of Puebla de Valdavia, and the beginning of the irrigable area in the Municipality of Villaeles de Valdavia.
The start of supply is planned during the first quarter of 2018 and the execution period will be 12 months.