Prefabricados Delta has begun supplying the pipeline to expand the capacity of the Channel Piedras siphons (Huelva)
15/10/2018
Prefabricados Delta has begun supplying the pipeline to expand the capacity of the Channel Piedras siphons (Huelva)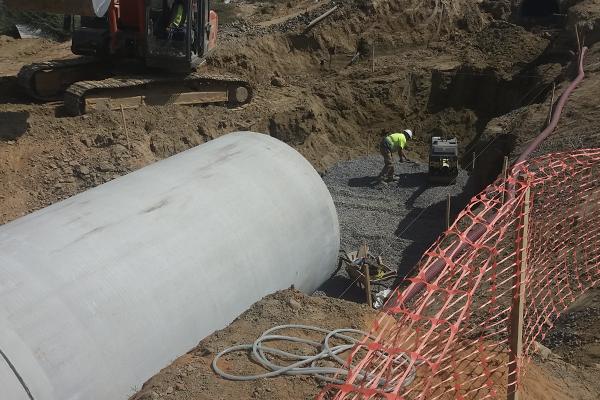 The pipe that we are supplying is the reinforced concrete pressure pipe with steel cylinder DN2500 mm with double elastic joint.
Prefabricados Delta is supplying the pipeline for the project 'Project of expand the siphones 4 and 5 the Channel of the Piedras' that consist of the set of actions necessary to equip the siphons 4 and 5 of the Channel Piedras with the hydraulic section sufficient for it to circulate with ease by them a flow rate of 11 m3 / s. It includes the installation of a new reinforced concrete pipe with steel cylinder, 2.50 m in diameter, replacing the existing one, whose diameter is 1.50 m.
The pipe chosen for this action is the concrete pipe with steel cylinder and double elastic joint. The technical characteristics of the pipe are 2500 mm diameter, working pressure 4 atm and ground height from 1 to 4 meters.
The siphon nº 4 consists of 202 meters and the siphon nº 5 of 246 meters.
The work is promoted by the Junta de Andalucía for the Tinto-Odiel-Piedras River Basin District, the bid base budget is 2.6 million euros.
Note that the works are being executed with the channel in operation and that our new double elastic joint is being used. This joint allows pipe to pipe to check the tightness during the assembly process, with this system we get guarantee of sealing in concrete pipes with steel cylinder of large diameter with a very important saving in the subsequent tests of driving pressure, therefore you are ensuring that the system is airtight beforehand.