Prefabricados Delta completes the supply of the main pipeline for the Irrigation Modernization Project in the irrigable zone dependent on the Canal del Páramo Bajo. Sector VII and VIII (León-Zamora)
23/12/2020
Prefabricados Delta completes the supply of the main pipeline for the Irrigation Modernization Project in the irrigable zone dependent on the Canal del Páramo Bajo. Sector VII and VIII (León-Zamora)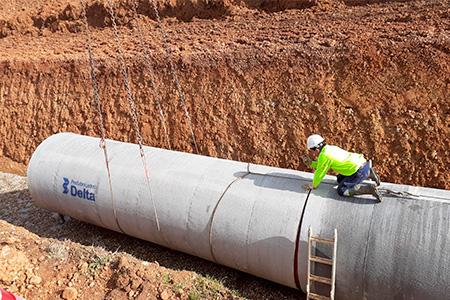 Prefabricados Delta has supplied 7,100 meters of prestressed concrete pipe with Steel cylinder and double elastic joint with a diameter of DN1600 and a pressure of 4 atm.
Sector VII and VII of the Modernization of the Irrigation Community of the Páramo Bajo is the last to complete this irrigable area, it has an area of 3,950 ha and will benefit more than 900 farmers in León and Zamora in the municipal terms of Altobar de la Encomienda, Saludes de Castroponce, Pozuelo del Páramo, San Adrián del Valle, La Torre and Valcabado.
The budget for this work is 26.7 million euros to be invested by ITACYL, SEIASA and the Irrigation Community.
The Prestressed concrete pipe with steel-cylinder is one of our most competitive products with more than 1000 km. installed, this type of pipe have 6 m. useful length that is used for pipes under pressure from 1 to 25 atm. and diameters between 500 and 2000 mm.
This pipeline consists of a concrete core with high-strength covered with steel-cylinder that gives tightness, and active armor (wire) rolls around the core prestress it. This set, called primary (element resistant), it takes a last outer layer of concrete whose mission is the protection of active armor.
In this case, the joint used is a double elastic gasket with a tube-to-tube check valve that allows you to ensure tightness during the installation of the tube. This joint that Prefabricados Delta has been using for more than 8 years since it was first designed and which has been a success in all its applications with diameters from DN1600 to DN2500 mm.